Despite all the uncertainty in the world today, I am pleased to announce that Golden Buoy Clothing and I have partnered together for my Waszp sailing, which I do in my spare time away from the Olympic Laser side of things!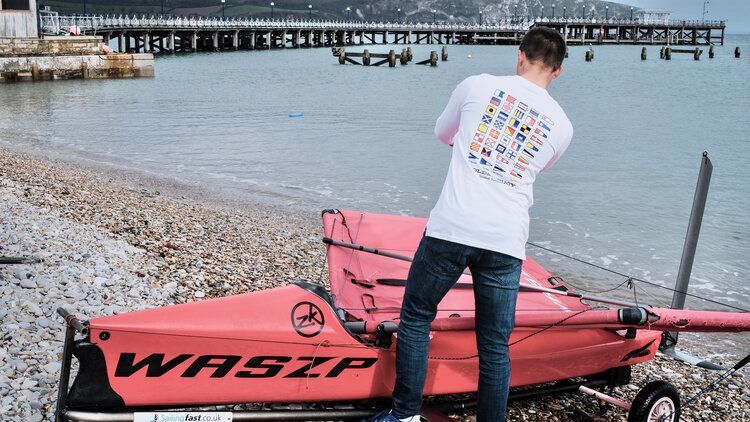 Ethically created on a carbon neutral production line, Golden Buoy uses organic cotton to produce casual clothing for fans of all water sports. £1 from every item is donated towards the RNLI, with all packaging biodegradable, so you can recycle it or put it in your compost bin outside.
Here are their company values:
Every Purchase Funds Lifesavers
The RNLI have saved over 140,000 lives since they began in 1824 and continue to battle the elements to assist water users every day. We think they do an incredible job, especially with the majority of their crews being volunteers, so we've committed to giving them £1 from every t-shirt sold.
Biodegradable Packaging
We send all our items out in UK made paper bags which can be placed in your household recycling, or mixed with soil to biodegrade. Should you need to return anything to us the bags can be reused, then we'll take care of the recycling at our end. The only additional item in each order is a thank you note made out of seeded paper, which can be planted to grow your own mini herb garden!
Renewable Energy
From start to finish, the manufacturing process for our t-shirts is powered by solar and wind energy. Plus, when we take our pop-up store to events, we use solar power to keep our card machines and electronic devices powered throughout the day.
Quality Control
We spent months sourcing the best quality tees that meet our ethical standards and we think you'll be as impressed with them as we are. All orders are fulfilled by us in-house so we can make sure we're happy with the products we're sending out.
Supporting Talent
Founded by a former competitive dinghy sailor and water sports instructor, Golden Buoy is on a mission to get as many people on the water as possible. From supporting clubs with grassroots events, all the way through to sponsoring athletes and national race meets, we're happy to be a part of a fantastic community.
Golden Buoy joined my journey earlier this year on my Waszp crowdfunding campaign and I am delighted to be showcasing their products. I already have a favouirte t-shirt!